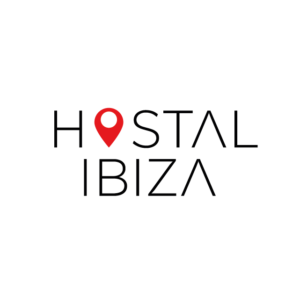 Welcome to Hostal Ibiza, your portal to the vibrant heart of Ibiza!
Only 50 meters from the port, we offer you direct access to the nightlife, gastronomy and culture of the city.
Discover Dalt Vila, the old town, or dive into the public market and shopping area. With our exceptional transport connections, the whole island is at your fingertips.
After a total renovation in winter 2022-2023, our hostel welcomes you with a modern and youthful atmosphere.
If you are looking for an oasis of tranquility in the heart of the action, Hostal Ibiza is your perfect refuge. Experience the best of Ibiza, book today!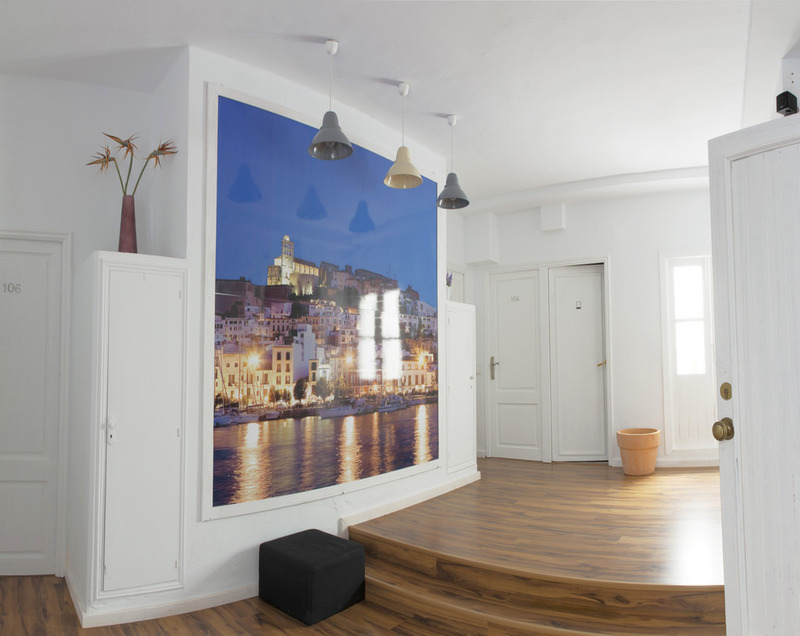 Discover the comfort and elegance in the rooms of Hostal Ibiza. Renovated with a modern design, they provide an oasis of tranquility in the vibrant city. Every detail, from the comfortable beds to the modern amenities, has been thought out for your relaxation and convenience. Enjoy a perfect fusion of modern design and cozy atmosphere at Hostal Ibiza.
Book your room today and experience authentic Ibicencan hospitality. Your ideal retreat in Ibiza awaits you!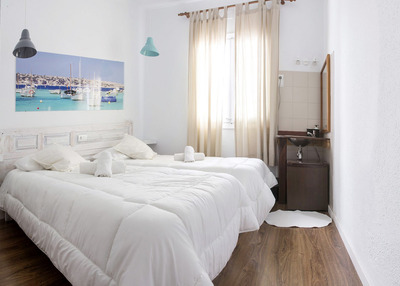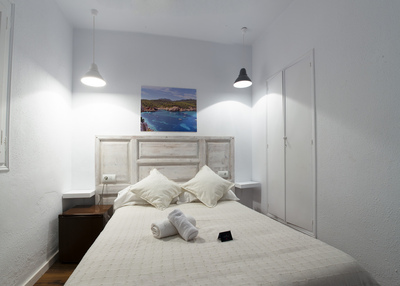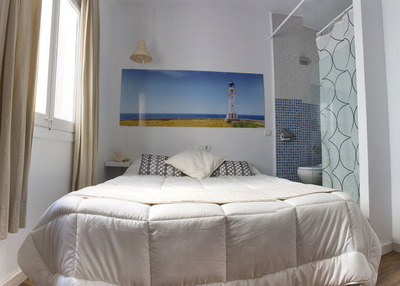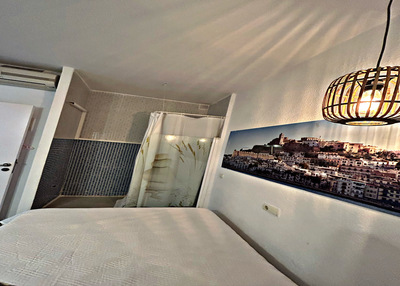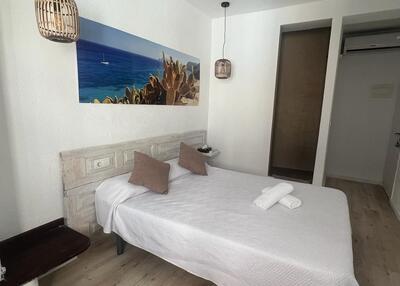 Experience the high quality services of Hostal Ibiza and feel the real Ibiza hospitality. Our services are designed to provide you with a comfortable and stress-free stay.
From exceptional transportation connectivity to modern interior design, our hostel is equipped with everything you need for your comfort. In addition, our friendly and attentive staff is always ready to help you with any request.
Enjoy the Hostal Ibiza experience, where your comfort is our priority. Don't waste any more time, book today and let us take care of you on your next visit to Ibiza.
Rest in Hostal Ibiza's comfortable double and single beds, designed for a restful sleep after a day exploring the island. Book now and discover the perfect break in the heart of Ibiza!
Enjoy our attention to detail with Hostal Ibiza's luggage storage service, designed for a stress-free start and end to your stay. Book now and experience comfort at the next level!
Have fun with our Digital TV at Hostal Ibiza, providing you with high quality entertainment at your fingertips. Book now and enjoy the best of television during your stay!
Enjoy our shared bathrooms in Hostal Ibiza, always clean and ready for your comfort. Book now and experience Ibicencan hospitality to the fullest!
Stay connected with our free WiFi at Hostal Ibiza, providing you with uninterrupted surfing. Book now and stay connected during your Ibiza getaway!
Keep cool with our air conditioning in Hostal Ibiza, ensuring your comfort at all times. Book now and enjoy the perfect weather on your getaway to Ibiza!
"Hostal Ibiza is a real find. Perfect location, modern and cozy rooms, and unparalleled service – the true essence of Ibiza!"
"Awesome Ibiza Hostel! Ideal location, modern charm and top service."
"I enjoyed my stay at Hostal Ibiza. Great location and comfortable rooms. The staff was very helpful, with a few details I would definitely give 5 stars."
"My stay at Hostal Ibiza was pleasant. The location is unbeatable, and the rooms, very comfortable. Eddy and Mariana were extremely helpful. Although there were some small details that could be improved, I would definitely recommend this place."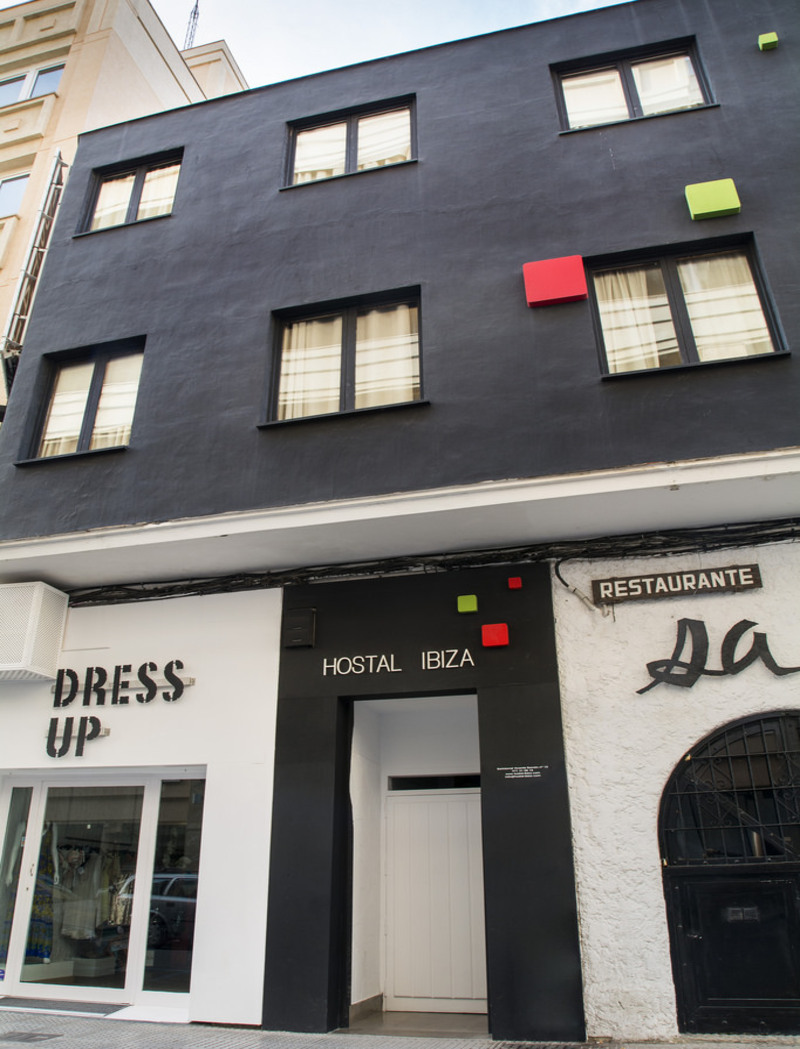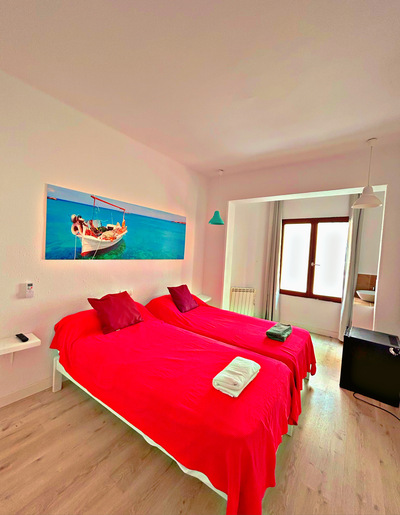 Discover the Special Offers of Hostal Ibiza, your gateway to the ultimate Ibiza experience. Our offers are designed to help you make the most of your stay, with unbeatable prices and exclusive packages.
Whether you are looking for a romantic getaway, a weekend adventure or an extended stay, our special offers will provide you with the perfect opportunity.
Take advantage of our offers and discover the true spirit of Ibiza at Hostal Ibiza. Don't wait any longer, book today and live the Ibiza experience you've been dreaming of.